New Low Prices! Free Shipping* on orders over $20!
(*Continental United States Only)
What sets us apart? Material science.
Desktop 3D printing gives everyone the power to create something out of nothing. However, the first challenge that every would-be Maker encounters is finding a reliable, easy-to-use build surface. Up until now, the most common strategies involve off-label uses of products such as glue sticks, blue tape and hair spray. These typically either don't bond well enough to the first layer, leading to peeling, or bond too strongly and make it difficult or impossible to remove the parts when printing completes.
Using our expertise in Material Science, Chemistry and Engineering, GeckoTek developed the ideal surface for 3D printing.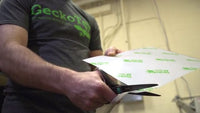 Testimonials
I am incredibly impressed with the Build Plate!!!! It is ten times better than the hairspray and glass. It's definitely going to be my main build surface from now on

John H
I am still very impressed with your product and would like to order a 3rd time :)

Jan K
Just wanted to say I got my plates today and I'm impressed! I have tried everything out there and I do mean everything. You have a winner here. Wish I hadn't waited so long.

Colen C
I have been using one on my KC since the day they released it. I wouldn't print without it!

Brian F
I have been printing on my Kickstarter RepRap Base & HT Plates (almost non-stop) for over a month now. and I swear by your products!!!!!!!!! This plate with PLA or ABS just works, every time!!!!!

Stephen B
See The Rest Of Our Products